UF Gloves & Big Game Gut Glove - Testimonials
Here's what a few of our customers have had to say about us.
Have a testimonial of your own to share?
Rich Rutkowski-

I have no idea how good these gloves are for hunting. However these gloves are a Godsend for shell fishing (clamming and oystering) in New Jersey during the winter months.They are well worth the money, and I highly recommend them for any activity where you have to reach into cold waters. You should advertise them for both hunting and fishing.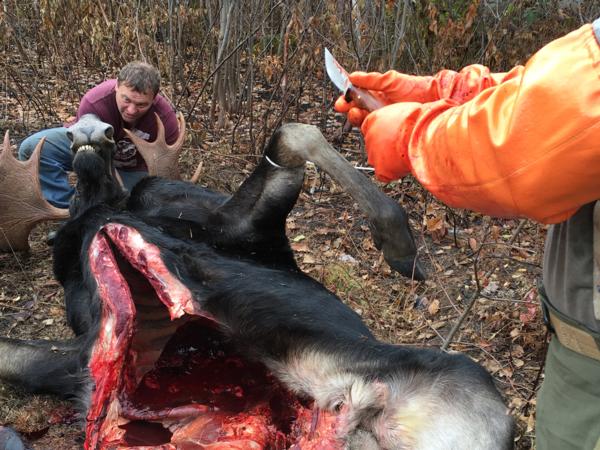 Jeff Watts Registered Maine Guide, Moose Look Outfitters
I used my big game gloves recently on a bull moose hunt with the Dubois family from North Smithfield, RI. They make the job clean and easy. It's the first time I didn't have blood all over my clothes. The best part is they clean up easy and are ready to use again. I highly recommend every hunter should have a pair in their pack.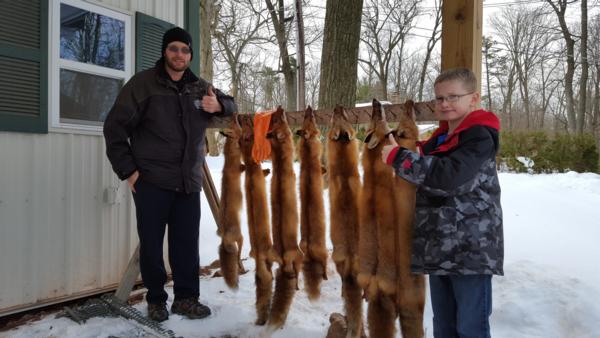 Dale S - Harrisburg PA
Wanted to take a few minutes and thank you for making a fine product. You were gracious enough to donate a pair of your gut gloves to my son for skinning and gutting. He loves them. I plan on purchasing a set for myself next convention. We put them to good use this year! Thanks for the memories Dale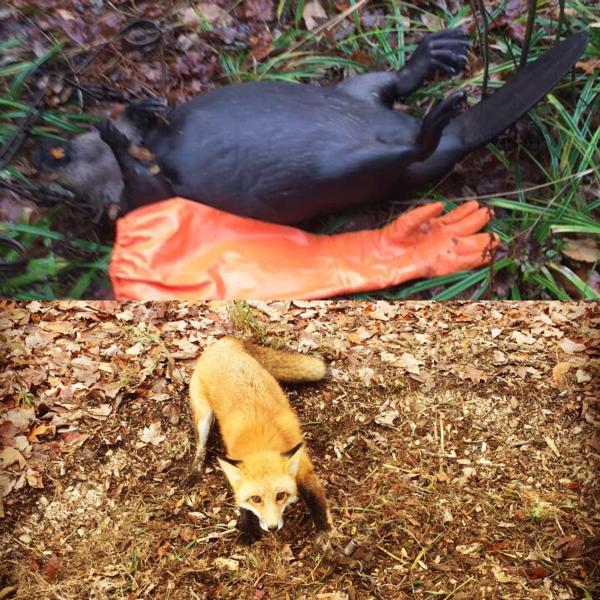 NH Trapper - Central New Hampshire
Bought the wayer trapping gloves and the water trapping gloves to use this year on the line. These gloves are tough and take all the abuse I give them while allowing me to be scent free. Awesome product, will never use any other gloves.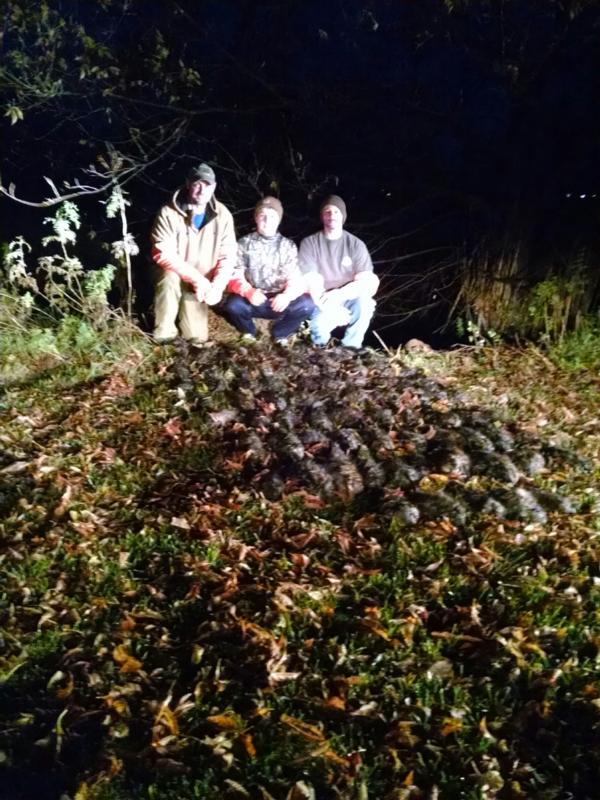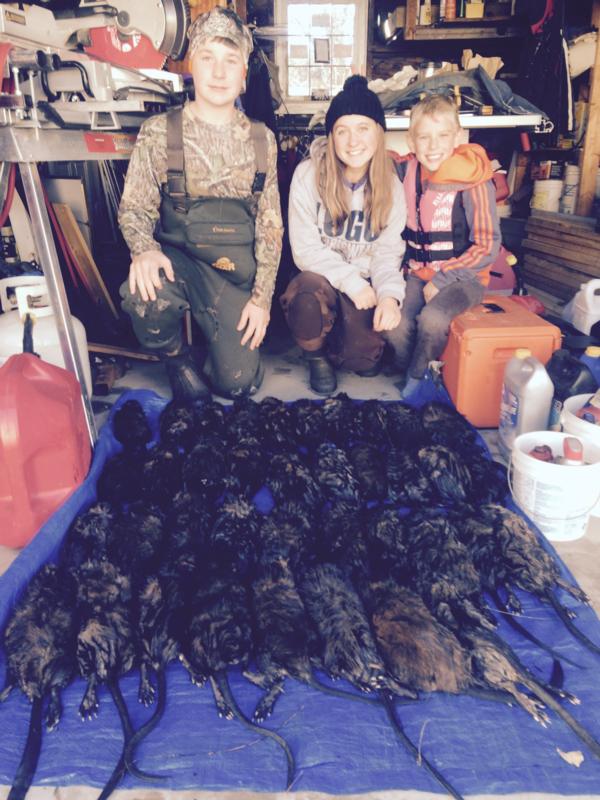 HCS OUTDOORS - Upper Michigan
Awesome company, I ordered my big game gut glove on Thursday and received my order on Saturday. That my friend is great service. I got my son a pair last year and this is the second year trapping and no holes in gauntlets!!! So opening weekend of season we set 267 traps and none of us got any holes in our gauntlets!!!! We caught 124 rats the first two days and set approximately 500 traps a year for muskrats alone. We also set for all other species in Michigan. These gauntlets are very comfortable, they wont leak and don't easily get holes. We trap very hard and put our equipment to the ultimate test. Big Game Gut Gloves are the only option, but don't take my word for it, try them yourself. Good luck and take a kid trapping, Joe
Kim Merrill - Houston, Texas
I have never been so comfortable field dressing and cleaning a deer before. Prior to the use of these gloves I would go through 6 to 8 latex gloves during a cleaning and I was a bloody mess at the end of it all. I can not say enough good things about this product and the way I was treated by Uncle Freddie when I received my first pair of gloves and they did not fit. He runs an awesome company and provides an awesome product that exceeds all advertisement and expectations. Thank you,
Dwayne Zimmerman - FORT WAYNE INDIANA
I used the throw away gloves for gutting deer for a lot of years as they work ok aside from cutting my fingers a number of times or ripping the gloves on a sharp bone. Now you have to clean up blood on your favorite hunting clothes or Band-Aid your cut. So when I seen these Gut Gloves at the Indiana deer and turkey expo I had to buy a pair. I have used these on countless animals now and they are still like new. I just purchased 3 pair for our bowhunting club Banquet silent auction. These gloves are awesome for gutting big game............
Stephen Gonzalez
UESD THEM FOR TWO SEASONS NOW.JUST PERFECT CLEANING A DEER. HOPE TO USE THEM ON A MOOSE AND BLACK BEAR DOWN THE ROAD.BROUGHT A PAIR FOR MY LAND OWNER WHO LETS ME HUNT HIS WOODS.HE,S ALLERGIC TO DEER HAIR.HE LOVES THEM BEST GLOVES ON THE MARKET FOR FIELD DRESSING. THANK YOU .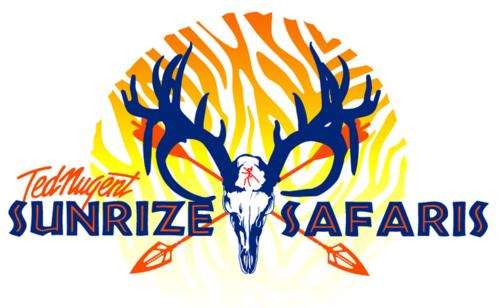 Paul Wilson - Ted Nugent Sunrize Safaris
My name is Paul from Ted Nugent Sunrize Safaris. I sell all of our hunting trips around the country and abroad. I also guide open range deer hunts as well guide on a hi fence for Russian hogs and exotics here in Michigan. I dress hundreds of animals a year and have gutted many thousands throughout my career. You had sent some of your product to us and I have used the heck out of a couple pairs of them and find them to be awesome. I have a ton of customers that will watch me use them and I will pass on your info. I will be buying them as needed in the future. Good stuff. I thank you!!
Paul Wilson, Hunt Manager
Ted Nugent Sunrize Safaris
http://www.tednugent.com/tour/sunrize-safari-hunts/
Marc Schwabenlander - Lethal Insight - Roseville, MN
As a professional in the veterinary medical field, I have known the importance of practicing clean and safe handling of the game I harvest for many years. Examination gloves over palpation sleeves (the shoulder- length gloves farmers, breeders, and veterinarians use) has been my go-to combination to keep me clean and to provide a barrier between myself and the bodily fluids of the animal which have the potential to carry disease-causing viruses, bacteria, prions and parasites. Unfortunately these gloves have limitations. They are one time use only, slide down my arms, and have a tendency to tear or puncture, limiting their effectiveness. WITHOUT A DOUBT, BG3 gloves are leaps and bounds better than the "old-school" sleeve and exam glove combo! They should be part of every hunter's arsenal to keep them healthy and safe.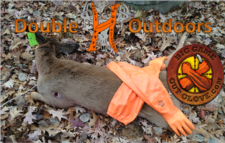 Double H Outdoors FPS - Cole Hansen
Every Hunter NEEDS a pair!!! i would recommend these to anyone. I have already used my Big Game Gut Gloves 3 times in 4 months and they still are like brand new. the best part is clean up. they sat uncleaned, all bloody in the bed of my truck(during Wisconsin Winter) for almost a month, ran hot water over them and in 5 mins they cleaned up as if i just took them out of the package. Also, bought a pair for my stepdad, he is allergic to deer hair, these work perfect for him and he loves them. No allergic reaction anymore. A true LIFE SAVER!!!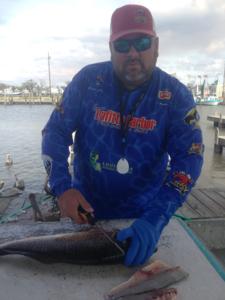 Capt. Chad Daigle (LUCKY 7 CHARTERS) - Lafitte, La
The Big Game Fish Cleaning Glove has found a place among my everyday fish cleaning tools...forever! Using this glove over the past few weeks has been comforting! Here in South Louisiana, we have experienced a record breaking winter. This glove has made such a difference in comfort! Great Product Y'all!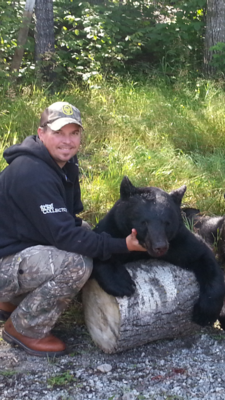 Adam Wampler - Ottawa, ILL
Thanks for the amazing product! I can't say enough about these gloves. I have used these gloves to dress 8 black bear and about a dozen whitetail without any issues. All my hunting buddies beg to use them while at camp. Hunters spend big dollars on scent free camo just to get it covered in blood after a harvest. These gloves keep me clean during field dressing and allow me to keep from getting the interior of my truck covered in blood. They take a beating and clean up very easy. They are extremely tough and durable, yet not too bulky to loose dexterity. Keep up the great work!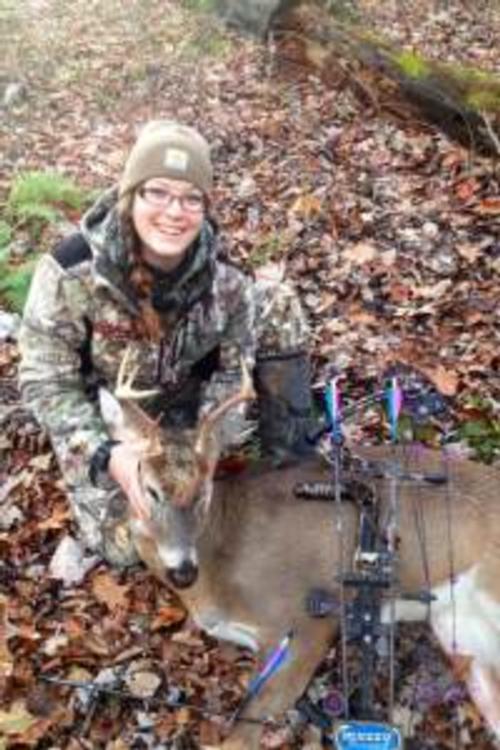 Ariel McCracken - Ladies in Camo
When it comes to hunting, there is one particular task that always seems to be the most unpleasant; field dressing your harvest. This is an expected task when you harvest an animal, but at times, this is a procedure that is not typically on a hunters' top-list of favorite things about hunting. We've all tried various means of making this unpleasant task a bit more bearable, such as using disposable gloves, latex gloves, rubber gloves, bare hands, or perhaps even the improvised version of a glove, such as plastic bags. All options never seem to stand the test and consequently tear, rip, or puncture holes from bone fragments, long fingernails, your knife, or any other sharp hazards while field dressing.
Uncle Freddie's Big Game Gut Glove allows hunters maximum protection from the very unpleasant task of field dressing.
J - Tampa, Fl
Awesome product. The grip is great and they clean up quite well and were for use the next day. Going to order a backup pair. I do not want to be without these on any harvested animal.
Dan Findlay - Thamesford Ontario Canada
Love the gloves! Cleaned moose and deer this fall and still like new and for once my coat is the same color it was when I started hunting this year. Fantastic product, just ordered a pair for my son and son-in-law.
Rick Todas - Aurora,Il
Really effective gloves. Great improvement over the usual vinyl or rubber gloves. Tough, easily cleaned and readily packable.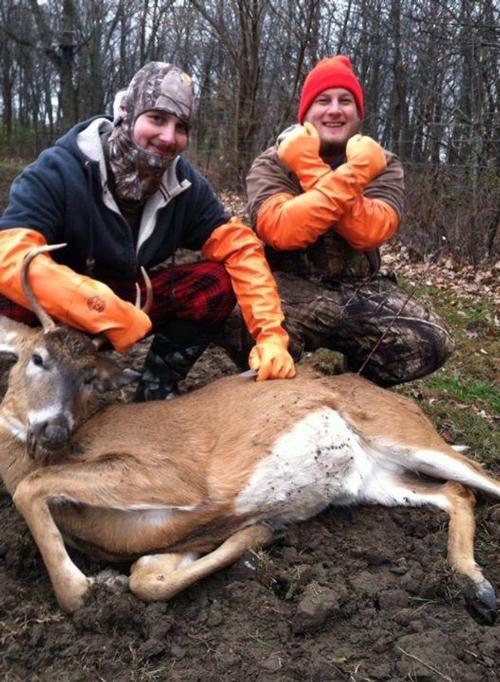 Matthew King - Tinley Park, IL
I got my first deer the other day what a rush. I was never told how messy it can be to field dress an animal that large. Thank god that I had my BIG GAME GUT GLOVES! they made a messy job quick and easy. The thickness and quality of the gloves gives you confidence to reach deep in the deer and pull everything out. I'm never going hunting without my big game gut gloves the make life easier.
Midwest Buck Quest (Archie Bruno) - New Lenox, Il
The very best glove is here, such a great product!!! Use all his different gloves and also use them at work doing concrete road work. These gloves are very tough and really protect your hands. Teach your kids right & keep your self healthy and clean. Hunt Hard, Hunt Safe & Never Give Up, The Quest Never Ends!!! Big Game Gut Glove, Get Some!!!!! Archie from Midwest Buck Quest
Scot Chandler - Hamburg,Minnesota
Used these gloves for trapping. I usually go through two pair of gauntlets in a months time.They remain flexable in cold weather unlike others i have used. No leaks or tears after setting traps which sometimes pinches glove. I would suggest that there should be an elastic strap connecting gloves together to keep gloves from slipping down due to wearing over clothing. Excellent pair of gloves, thank you for showing up at trapping convention and promoting a superior glove.
Steve Blake, Ogle County, IL
I shot a doe and used your gloves to clean it. Wow, what difference in quality and performance compared to the disposable kind. I like the extra long selves that fit over my hunting coat and they didn't fall down like the other cheap brands. Clean up in the creek was a snap. Packed them away for next season.
Hog Hunting Strategies - Land O Lakes, FL
We field dress hundreds of hogs each year during our wildlife nuisance hunting. Hogs are three times the risk as deer for blood borne deseases. This glove is not only a cost saver for us but one of the best products to hit this industry in years. Fit and feel is near perfect and without limitations. If you are an average hunter this may be the last glove you will ever buy.
John Mordus - Detroit, MI
Finally got to use my gloves that I purchased earlier in the year. These things are slicker than my pickup sliding downhill in an ice storm. Great grip on knife, saw, and everything that had to be pulled out. They clean up real nice and easy. I just ordered 2 more pair for late Xmas presents to give my hunting partners . Great product!!!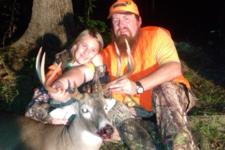 Tim Berger - Murphysboro, IL
Hi my name is Tim Berger as a family we kill 4 to 6 deer a year.This October my daughter Brianna killed this nice 8pt buck her first deer ever ! not bad for a 12yr. Old !We used your gut gloves and they worked fantastic no more disposable gloves for us thanks the Bergers from murphysboro Il.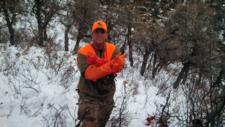 John Elashik - Homewood,IL
I used the big game gut gloves to field dress 2 Elk in Colorado and I cannot say enough about them. I was able to get all the way inside the chest cavity of both Elk without getting any blood on my clothes. It was nice to be able to go back to camp and wash them off and put them right back in my backpack for the next day. I will never use anything else besides the big game gut glove. Hopefully, I get to use them this week for deer season. Thanks for make a great reusable product!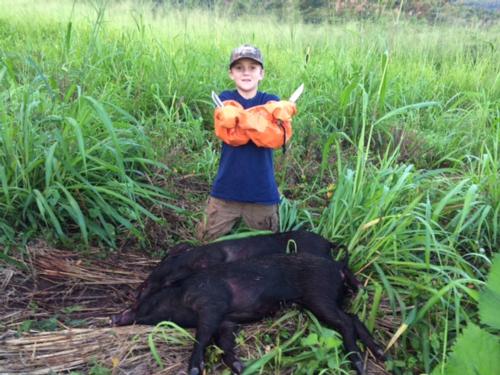 Michael J. Botha
Just wanted to thank you for the gloves, they work great! I have cleaned over a dozen pigs with them, they clean easy and are holding up like new. These are especially useful as we have pigs with brucellosis in some areas in Hawaii, Mikey is my son who hunts with me and loves his new gloves.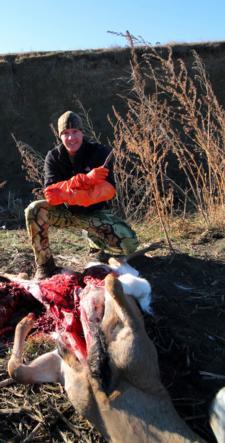 Ryan, Minneapolis, MN
Finally got to test out the Big Game Gut Glove this weekend, more than happy with what the gloves protect and do for me. No more blood on the hands, arms and sleeves. I can comfortably say that these gloves are a winner in my book!
Kathy Clancy, New Lenox, IL
Reusable field dressing gloves that really do work. No more disposable gloves left in the gut pile. I love the green angle. Great product.
Tim King Tinley Park IL
I watched my buddy use a pair of Big Game Gut Gloves last season. He and I were both impressed with how easy the process went. I have a pair that I plan on using this year if I get a deer. I'll send you another review if I'm successful.
Rachel Snodgrass, Kankakee, IL
My husband has always field dressed my deer because I can't stand the feel of the blood and guts on my hands. Your gloves have solved that problem. Your tag line about field dressing made safe and easy says it all. I will and have recommended your gloves to all my friends and family that hunt. Awesome Awesome !!!
Greg Schumelter, Will County IL
Finally a product that will help me educate my young sons on the importance of field dressing. The smaller sizes fit there hands perfect.
Frank Komperda, Galesburg IL
I've been deer hunting for 37 year and use my bare hands to field dress my deer. I have bought and tried everything on the market and nothing comes close to the superior quality of your gloves. No more bare handing it for me.
Earl Rinker, Hurley WI
These gloves are great. I can't say enough good things about Big Game Gut Gloves. I hunt on my grandfathers property with my wife and kids. Field dressing from here on in will be a family affair. No more excuses about getting blood and guts on there hands.
Dan Nowak, Moorehead MN
Awesome concept. I love the non-slip grip. Knife control is everything when butchering my deer and moose. Your gloves work great.
Eddie James, Springstead WI
I field dressed 8 deer this year in hunting camp for me and my family. I used the same pair of gloves each time. They cleaned up quickly in the creek with just sand and water. They're still like brand new. I packed them away for next season. Thanks to everyone at Big Game Gut Glove for a great product.
Richard Jepson, Decatur IL
These gloves blow away the competition when it comes to field dressing my deer and bear. Wow what a great product. No more blood and guts on my hunting clothes. Mama's Happy!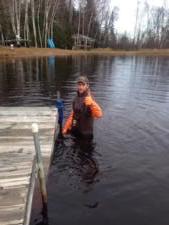 Northern Property Services - Park Falls, WI
These gloves are super durable and comfortable. I've been installing and removing docks and boat lifts with the same pair for two entire seasons (about 75 customers) and still no tears or holes! I've got the long sleeve pair so my sweatshirt sleeves and arms stay dry all day, which is awesome. My hands are pretty big and I got the large size, so my fingertips go right to the end so I can deal with nuts and bolts all day with good sensitivity and grip. These gloves have proven far superior to any others and will be buying several pairs for my workers.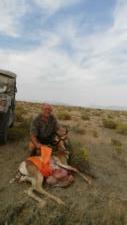 Randy Whiting - Chiloquin, Oregon
Just got back from a archery antelope hunt in Nevada. I used my new Big Game Gut Gloves...and was very impressed. Great feel and dexterity and kept my hands and arms clean clear to my shoulders. Great product, will put them to good use during deer, elk, and trapping seasons this fall. Thanks!
Jim Lierle - Marquette hts, Illinois
brought 2 pair 12 inch XXL, Love these, finally got a glove that fits my big hands! flexible even in cold ice water, best money I spent at Nat, convention by Rockford Il.in July 2017. hope to see you people at the the Il. convention in Oct.2018.
Send us a Testimonial
To our past clients: We appreciate your comments and if you would, fill out the form with comments and a photo about your experience at Big Game Gut Glove. Fields marked with * are required. Please enter the Name field how you want your name to read on our website (Examples: John Doe, J. Doe, John D., John Doe Corporation).