Why Big Game Gut Glove?
After two hunting seasons and many hours of field testing we have proven time and time again that the "Big Game Gut Glove" provides the modern day hunter with maximum protection from the unpleasant task of field dressing a harvested animal. Our sport and the love of the outdoors keeps changing. There are more woman and children taking to the field with husbands, fathers and grandfathers. We watch TV shows that show husbands, wives, and all their kids hunting together and celebrating the harvest as a family. When it comes to the most important part of the hunt what better way is there to educate the youth and new comers to the field dressing process. Whether you've been hunting your whole life, a few years or just getting started, give this product a try! It will really change your perception on field dressing!
Introducing our newest gloves in the Uncle Freddie's lineup!
Our short, 12 inch gloves come in both insulated and non-insulated styles. Both gloves provide the same supergrip hand finish made famous in our 26 inch field dressing gloves. Short gloves are great for shooting, skinning, land trapping, fishing, waterfowl gutting, taxidermy, and just about any other use you can think of. They are made from the same high quality nitrile rubber as our field dressing gloves. Our insulated gloves come with permanent built-in extra thick cotton lining, providing extra warmth on really cold days. Our non-insulated gloves offer protection from moderately cold temperatures, thanks to their cotton lining. Both styles will protect you from the snow, rain, and wind.
Our long, 26 inch insulated gloves bring a whole new level of performance for trappers and waterfowl hunters. Unlike other trapper's gauntlets our gloves are flexible, super tough, and last a long time! We've had trappers use them for an entire season without getting any punctures or holes in the gloves. For waterfowl use, our long insulated gloves are tough enough to break ice, keep you warm, and best of all keep you dry in the harshest of conditions!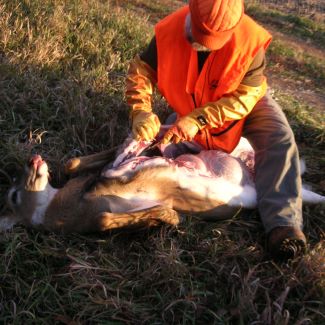 WHETHER IT'S WHITETAIL DEER, ELK, MOOSE, BEAR....
Or some of the larger animals hunted in different parts of the world, we have seen there is an overwhelming need for equipment that will make field dressing your harvested game safer and easier. Until now, there were only 2 options available when field dressing your harvest.
Roll up those sleeves, grab that knife, and start cutting.
Use the disposable product currently on the market.
Our product, the Big Game Gut Glove, changes everything – for the better! Let me tell you why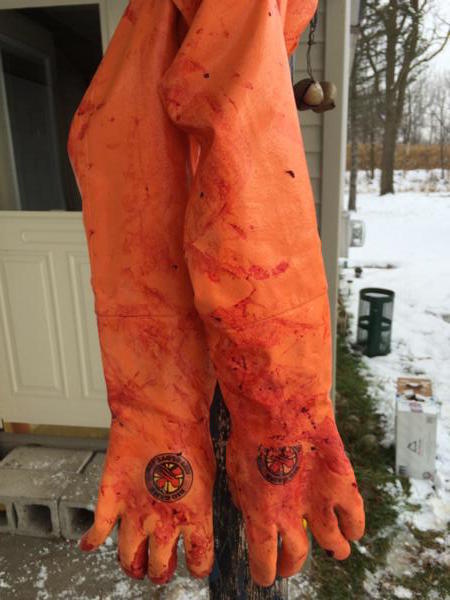 Extra-Long Blaze Orange Field Dressing Gloves...
They fit over most hunting apparel. The heavy elastic band at the top holds the sleeves in place. It has a special cut and puncture resistant non-slip grip in the palm and finger portion of the glove. When wet with blood, the gripping surface helps bond the knife to your hand giving you maximum control when field dressing your harvested game. From the first incision, to the cutting of the chest plate, to the extraction of the inner organs, and the final clean out of your harvested game our gloves make the job MUCH EASIER!
Maximum Protection for your Hands and Gear!...
The "Big Game Gut Glove" gives your clothes and hands maximum protection from the blood and body parts, a slip of the knife, or a shattered bone. That's right folks - no more blood stains on your expensive hunting clothes! No small cuts or punctures to your hands and arms. The best part is that "Big Game Gut Gloves" are reusable. You can clean the Big Game Gut Glove in the field with a light household cleaner and some paper towels or you can put them in a plastic bag and clean them at camp or at home in a utility sink.